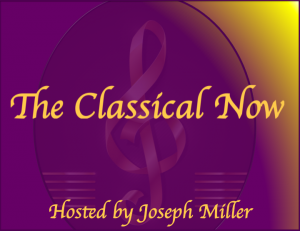 **THE CLASSICAL NOW is not currently under production. But recordings of a few past shows are archived on this site, with more to come as I find time and motivation.**
THE CLASSICAL NOW is a weekly two-hour broadcast hosted by Joseph Miller, and dedicated to classical music, but with occasional side-trips into crossover, world music and jazz. Local upcoming concerts are announced, and recordings from visiting artists are played. Interviews with musicians, directors and authors are aired through our DirecTalk segment. The Classical Now currently airs Sundays 2pm-4pm on KCSB 91.9 FM Santa Barbara, or streaming live at www.kcsb.org. Please visit the Podcasts menu for MP3 archives of past shows. 
THE CLASSICAL NOW welcomes input by local classical music enthusiasts. Musicians, composers, authors and directors who wish to be interviewed for DirecTalk should email Joseph.
"The Classical Now, where the timely and the timeless meet in sound."